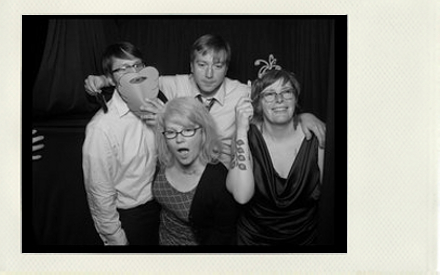 hi | about | music | shows | shoppe | photos | contact



Hello. Ghostlady was a band in which Renee Bertsch Hytinen played farfisa, guitar, and sang; Allison Stanley played drums, bells, and sang; Robbie Linkner played bass, Dave Niles played bass and guitar and recorded the albums!
All members are originally from Michigan and have been creating, recording and performing music on various instruments in a variety of settings since the pre-teen years. It is likely that the idea of Ghostlady started some time ago. Renee and Allison began playing in bands together while living in Chicago somewhere around 2001, among them being transaction Ensemble and the autumn-waking. Then in 2007, Ghostlady began haunting a wood paneling basement in Ann Arbor as a duo, after both ladies had moved back to MI. With Renee managing the farfisa, loop pedal and guitar simultaneously, and Allison playing the drums and bells at the same time, they generally called the music they were creating quirk-pop. Dave joined the band in 2009 after recording their first album and Robbie joined in 2012 after playing bass at the release show for Henry.
Ghostlady released their second full length album, Henry, at the end of 2011. Please check the shoppe page for more information.