hi | about | music | shows | shoppe | photos | contact

Henry

Download: $5, CD: $10, 12inch vinyl: $15
Click here to purchase Henry on Bandcamp
Henry is also available at Wazoo Records, Encore, and Underground Sounds in Ann Arbor, Cafe Ollie in Ypsilanti, and also on iTunes and at Amazon


Released December 1, 2011.This 15 track album is Ghostlady's first full length release with the line-up as we know it today, released in digital download, CD, and 12-inch vinyl formats. The vinyl purchase includes a free digital download. The vinyl's cover art was printed by hand by Ghostlady. The CD comes in a recycled eco-wallet cardboard case.







Single's Night
Download: Free, CD: Sold Out
Click here to download Single's Night on Bandcamp


Released January 1, 2011. This three song single was assembled especially for Mittenfest V, and features one new studio track off the upcoming album (Henry), and two songs recorded live in September 2010. The covers are constructed of felt material and paper, with screen-printed and handwritten liner notes.

When the Sheet Hits the Fan
Download: $5, CD: $8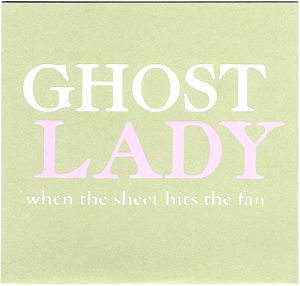 Click here to purchase When the Sheet Hits the Fan on Bandcamp
Released May 16, 2009. After Demo Treats (two song recording from May, 2007), Sheets marks Ghostlady's first full length release, and the only release as a duo. The covers are made of card stock and were screen-printed by hand.







Ghostlady t-shirts are screen-printed at home and are ten dollars apiece. Please visit the shoppe gallery to see the kinds of styles available.